Posted:
December 10th, 2010 |
Author:
admin
|
Filed under:
Get Started
|
Tags:
Recruitment
,
The Barbican
|
Comments Off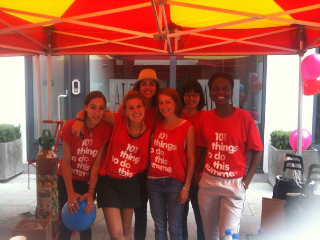 Recruitment: Before & After
One question I get asked a lot is, "How do you find ambassadors?". So I asked Natasha Anderson, Marketing Officer at The Barbican, London to share her experiences with the recruitment process for her 'Every101 Team' earlier this summer 2010. Here's the Before and After:
BEFORE:
So what is the Every101 Team?
It's a team of community ambassadors. We originally set up a street team that focused on a previous hip hop dance theatre show and had great success. A number of the street team wanted to stay on and do other things with the Barbican and we looked at how we could expand that. I am really interested in providing a 'third space' in the way of contact between The Barbican Centre and the communities we are trying to reach.
What will the Every101 team be promoting?
Their work will be linked to our '101 Things to Do this Summer' programme. www.barbican.org.uk/101
How many people are you hoping to recruit?
We're hoping to get 30 – 35 people, but we tend to have 25% drop off rate so we'll be happy to get a good 25.
Why do people drop out?
Some people think they have lots of time and discover they don't! Some people come for an interview and then you never see them again as they decide it wasn't what they thought it was going to be…
What will the team be doing?
They will be out there in the community talking about The Barbican with confidence. I'm hoping each event in the summer programme will be led by a particular team member too, look out for them wearing red t-shirts and giving away '101 things to do this summer' tote bags in a park near you.
What kind of person are you looking for?
The number one attribute they must have is passion for interacting with people, with a particular focus on Hackney and Tower Hamlets. There's nothing better than a recommendation from a local person as its worth an ad space in the local newspaper. They don't have to be from the area but they do need an understanding of the communities in it. It would also be great if they are interested in the arts if so, then we are interested in hearing from them.
Where are you advertising for the team?
• Via our own website barbican.org.uk
• Via the two councils
• Job centres
• Colleges and Universities
• Arts Council England arts jobs website
• Facebook and twitter of current street team members
We are also working with local residents' associations to get people excited and involved with events in their local area..
What will the team members get from being involved?
I think it's a great opportunity to work for The Barbican and represent them at events in the local area, they will also understand what it means to work as part of a team that is proactive, engaging and interested in developing contacts. We also offer access to Barbican events and where possible tickets to other show in other organizations.
Sounds like you will be busy
Yes, I've brought in an intern and an assistant for the project.
Good Luck. Looking forward to hearing how you get on
Thank you! We'll be interviewing the applicants this week.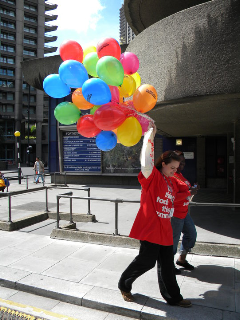 AFTER
So how did you get on?
We aimed for a team of 30 and out of nearly 80 applications we recruited 37! However, of these, 25 were active members. We paid them £7.50 per hour, per event or the team leaders were paid £8.41 per hour as they were responsible for organizing print arranging the team and sending team event reports.
What worked best regarding recruitment?
Advertising on our website was our best method. Also ArtsJobs and asking our current team to engage friends and family.
What did the team do?
Over a 9 week period They promoted 30 Barbican events which included 7 major outdoor events. They also did things like manning market stalls at events and flyering other events.
Did you do any online promotion?
Yes they did some networking on Facebook and took photos when they were out and about at events. The street team had their own Facebook group too, that is a subsidiary of the Barbican's Facebook site. They also uploaded photos to Barbican Flickr accounts and used their own twitter accounts.
Did they make a difference?
Oh definitely. Our evidence is more anecdotal but for instance they saw people they had flyered at other events at others and due to the stall we had at each of our events the same faces would stop by and say hello.
Was there anything that didn't work so well?
Working out a transport system for the print that needed to be delivered was problematic as we had to send the bulk of it by cab and courier, which cost us a small fortune! The feedback session was honest and frank: they told us they had felt over-communicated to as we would often send them 2 emails a day to rally support for events. We also had to adapt our ideas as we went along in terms of how the team leaders system worked. Originally we wanted to have one person leading on an event backed up by members of the team. But due to the availability of the leaders, it wasn't always possible to get for them to work the shifts. So in the end we rotated the team leader role and gave different people a chance, which I actually think worked better as they all had a chance to do it differently and make the experience better.
Thanks for sharing this with us.
You're welcome!
---